CEH Training in the Greater St. Louis Area and Live Online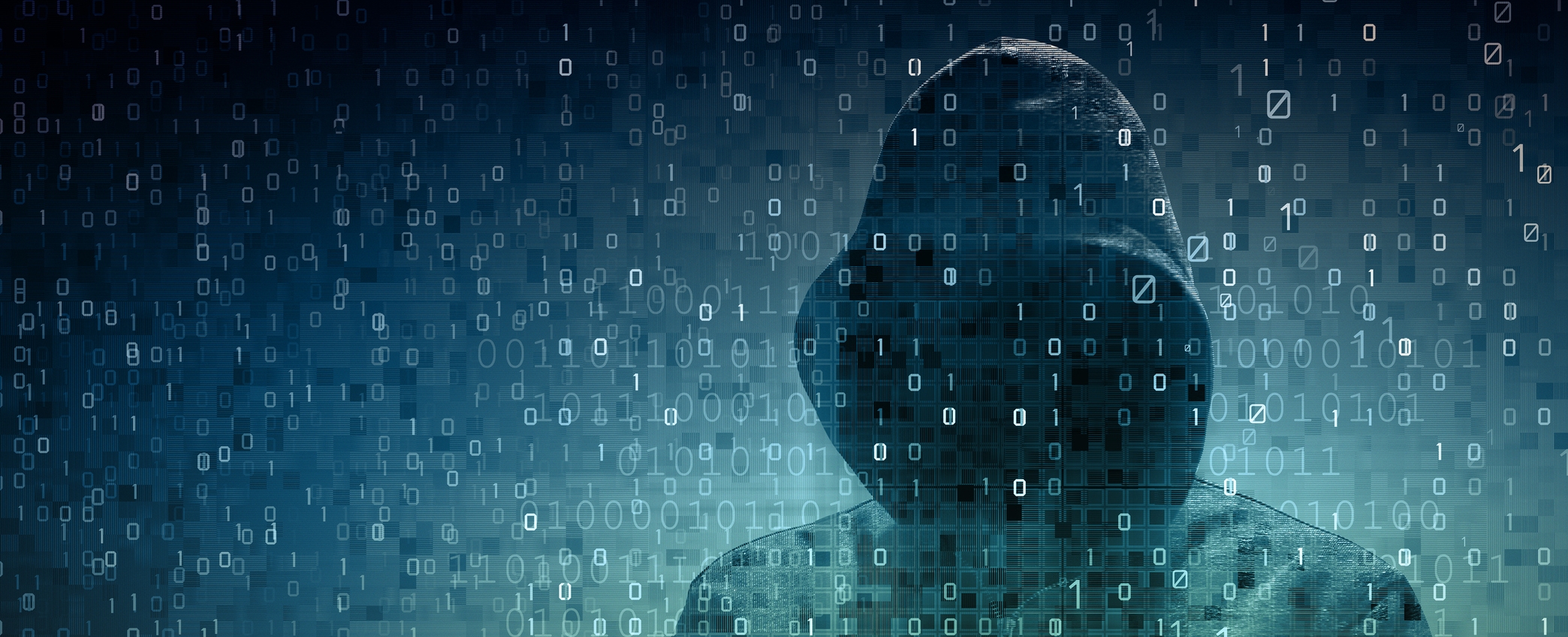 ALpine Security's CEH Boot Camp Includes the following:
180 days access to iLabs (online hacking range)

Proctored Exam the last day of course with option to upgrade to ProctorU so you can take the exam at your leisure

Lunch, snacks, beverages, and networking opportunities

Expert training by real-world penetration testers

Official EC-Council materials

CEH Practical Exam Voucher (Optional)

Outstanding Reviews
The goal of the CEH training is to help you master an ethical hacking methodology that can be used in a penetration testing or ethical hacking situation. The course prepares you for the EC-Council Certified Ethical Hacker exam 312-50.
This is the world's most advanced ethical hacking course with 18 of the most current security domains any ethical hacker will ever want to know when they are planning to beef up the information security posture of their organization. In 18 comprehensive modules, the course covers over 270 attack technologies, commonly used by hackers.
Our security experts have designed over 140 labs which mimic real time scenarios in the course to help you "live" through an attack as if it were real and provide you with access to over 2200 commonly used hacking tools to immerse you into the hacker world.
In short, you walk out the door with hacking skills that are highly in demand, as well as the internationally recognized Certified Ethical Hacker certification!
Download the CEHv10 Brochure.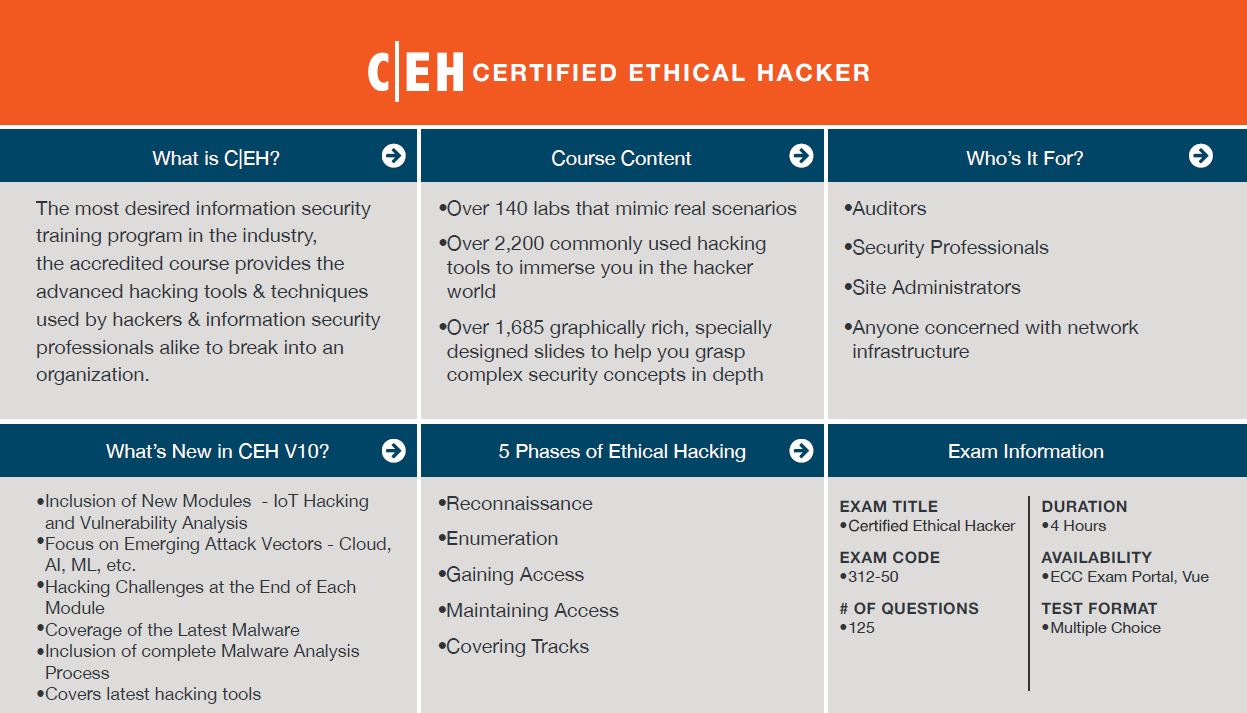 Certified Ethical Hacker (CEH) Quick Facts. Click to Enlarge.
CEH Course Content
Module 1 – Introduction to Ethical Hacking

Module 2 – Footprinting and Reconnaissance

Module 3 – Scanning Networks

Module 4 – Enumeration

Module 5 – Vulnerability Analysis

Module 6 – System Hacking

Module 7 – Malware Threats

Module 8 – Sniffing

Module 9 – Social Engineering

Module 10 – Denial-of-Service

Module 11 – Session Hijacking

Module 12 – Evading IDS, Firewalls, and Honeypots

Module 13 – Hacking Web Servers

Module 14 – Hacking Web Applications

Module 15 – SQL Injection

Module 16 – Hacking Wireless Networks

Module 17 – Hacking Mobile Platforms

Module 18 – IoT Hacking

Module 19 – Cloud Computing

Module 20 – Cryptography
Download a Detailed CEHv10 Course Outline.
The CEH is considered Core in the EC-Council Penetration Testing Track. We offer courses at all levels of this track.
CEH Certification Exam
This CEH Boot Camp prepares you for the CEHv10 Exam. The CEHv10 Exam is part of the course and is offered as a proctored exam the last day of class.
Learn hacking from White Hat Hackers – Live Online or in St. Louis Area
Multiple Choice Exam Details
Number of Questions: 125 questions

Type of Questions: Multiple Choice

Length of Test: 4 hours

Passing Score: Pass/Fail only. No scaled score.
CEH Practical Exam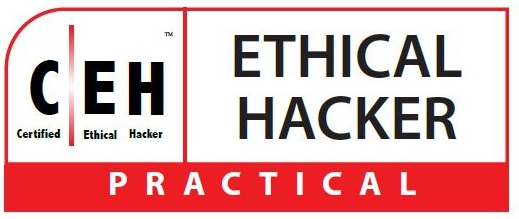 You can use the CEH Practical Logo when you pass the CEH Practical. This is an "add-on" to the "paper" CEH.
Our course includes a voucher for the CEH Practical Exam as well. The practical exam gives you the opportunity to prove your knowledge through application. You do not need to take the CEH Practical Exam to become a CEH, but to use the CEH "Practical" designation, you need to take and pass the Practical Exam.
Practical Exam Details
Number of Practical Challenges: 20

Length of Test: 6 hour proctored practical exam

Test Format: iLabs Cyber Range

Passing Score: Pass/Fail only. No scaled score.
Alpine Security is an award winning EC-Council ATC
CEH Training Duration
5 days / 8 nights
Continuing Education Credits
35 hours (days) / 32 hours (nights)
Locations
CEH training located in O'Fallon, Illinois, close to Scott Air Force Base and St. Louis
Our CEH course is offered less than 15 minutes from downtown St. Louis at our O'Fallon, Illinois training facility, located at:
7 Eagle Center, Suite B-5
O'Fallon, IL 62269
We also offer private onsite courses, at your location.  We love to travel and will gladly send a trainer to your location. Please Contact Us for more information.
Format
Live, Instructor-Led CEH Training with a dynamic CEH-certified trainer that is a cybersecurity professional. Instructors have real-world experience with the material covered in the course.
DELIVERY OPTIONS
Our CEH training is delivered in a "hybrid" format, where we have both In-Person and Live Online attendees. This provides a fun, interactive environment where In-Person and Live Online students can easily interact both with each other and the instructor. When you register for the course, you can choose which delivery option works best for you:
Live In-Person

Live Online
CEH Training Schedule
January 20-24 (M-F), 8:30am – 4:30pm, 2020

April 13-17 (M-F), 8:30am – 4:30pm, 2020
Register for CEH TRaining
Contact
Questions about Alpine Security?
Contact us for more information.
Contact Request